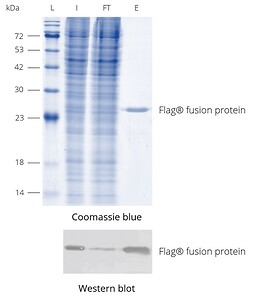 Test the novel DYKDDDDK Fab-Trap for superior immunoprecipitation

The ChromoTek DYKDDDDK Fab-Trap™ Agarose, is a ready-to-use reagent for high-purity immunoprecipitation of Flag®-tagged proteins.

Why is the DYKDDDDK Fab-Trap superior?
• Lowest background in class
• Recombinant Fab-fragment derived from M2 clone
• Mild peptide elution

The DYKDDDDK Fab-Trap can be applied for
• Immunoprecipitation / Co-IP
• Mass spectrometry
• Protein purification
• ChIP, RIP

Lowest background in class
The DYKDDDDK Fab-Trap is based on a Fab-fragment, which is only one third of the size of a conventional antibody. Due to its smaller size, the Fab-fragment minimizes unwanted interactions with the host-cell proteome, resulting in efficient immunoprecipitations with superior purity and less background.

DYKDDDDK Immunoprecipitation Starter Pack
The DYKDDDDK Immunoprecipitation Starter Pack is a cost-effective product bundle. It includes everything you need: the DYKDDDDK Fab-Trap Agarose for pulldown (20 reactions), 3xDYKDDDDK-peptide for elution (1mg) and a sensitive DYKDDDDK tag Polyclonal antibody for WB detection.

Read more at : www.chromotek.com

ChromoTek is a pioneer in the analysis of protein-protein interactions using Nanobodies and has brought fluorescent tag proteins from cell biology into biochemistry laboratories. Today, the ChromoTek GFP-Trap® is frequently used for additional applications beyond pull-downs because of its outstanding binding of GFP-fusions.

ChromoTek and Nano-Secondary are registered trademarks of ChromoTek GmbH, Fab-Trap™ is a trademark of ChromoTek GmbH. Alexa Fluor is a registered trademark of Life Technologies Corporation, a part of Thermo Fisher Scientific Inc. Nanobody is a registered trademark of Ablynx, a Sanofi company. Flag® is a registered trademark of Sigma-Aldrich Co. LLC. It is used here for informational purposes only.