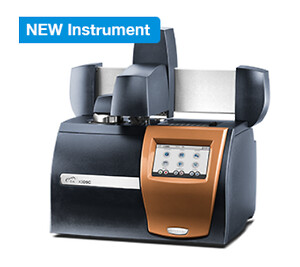 Understanding a material's structure–property relationship is necessary when designing, processing, and
utilizing a product. A range of thermal analysis techniques are used to measure the physical properties of a
material with respect to temperature, time, and atmosphere. The most prevalent thermal analysis technique—
Differential Scanning Calorimetry (DSC)—measures endothermic and exothermic processes and is widely used
to characterize a broad range of materials including polymers, pharmaceuticals, foods, biologicals, organic
chemicals, and inorganic materials.
The Discovery X3 DSC combines industry-leading performance with the tools to increase productivity on every level of material research. TA Instruments' commitment to innovation enables scientists and engineers to reach their goals faster and make critical decisions with confidence.
Features and Benefits:
Fusion Cell™ with patented technology provides unrivaled performance in baseline flatness, sensitivity, resolution, and reproducibility. Its superb technology enables detection of the weakest thermal transitions and the most accurate enthalpy and specific heat capacity measurements.
Enhanced Tzero heat flow technology for the X3 guarantees temperature and enthalpy accuracy simultaneously on all three samples
High-end performance with three sample calorimeters provide unmatched flexibility from replicate testing for statistical analysis to validation/verification against a control sample for the ultimate in certainty
Modulated DSC® (MDSC®) for the most efficient separation of complex thermal events.
One-Touch-Away™ User Interface enhances usability and access to data on the instrument.
Reliable linear autosampler with 54 programmable tray positions for worry-free 24/7 operation, flexible programming of experiments, and automated calibration and verification routines.
Widest range of refrigerated cooling options eliminates liquid nitrogen expense and ensures uninterrupted sub-ambient operation during extended autosampler routines.
Tzero Press and pans for fast, simple, and reproducible sample preparation.
Powerful software that delivers an exceptional user experience in a combined package for instrument control, data analysis, and reporting. Features such as automated calibration routines and real-time test method editing provide unmatched flexibility, while One-Click analysis and custom reporting raise productivity to new levels.
Commitment to quality backed by the industry's ONLY five-year cell and furnace warranty for peace of mind.