Innehållet nedan modereras inte i förväg och omfattas därmed inte av webbplatsens utgivningsbevis.
3M™ Scotch-Brite™ Diamond Floor Pads
Tillbaka till företagsprofilen.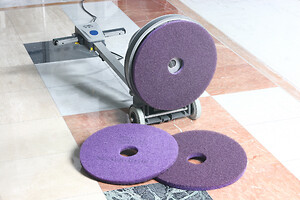 Clean and polish floors to an outstanding gloss level with Scotch-Brite™ Diamond Floor Pads.
Our purple floor pads are ideal for use on marble, terrazzo, vinyl, slate and polished concrete floors. They remove black marks up to six times faster and last up to twenty-five times longer. They're easy to use as no expensive or harmful chemicals are needed, only water. The pads offer high durability and productivity, and their flexible structure means they're easy to clean after use.
Fakta om 3M
Adress
3M
3M Svenska AB, Herrjärva Torg 4, 170 67 Solna, Sweden
170 67 Solna
Region
Sverige
Stockholms län
Solna stad