Elicera develops CAR-T against solid tumours – may become the first in the world
Today, there are five EU-approved CAR-T therapies, all focused on different types of blood cancer, but no one has yet succeeded in making the method work against solid tumours. At Gothenburg-based Elicera, they are working relentlessly to succeed in that field as well. "It is the largest field, and the potential is enormous," says the company's CEO Jamal El-Mosleh.
Foto: Elicera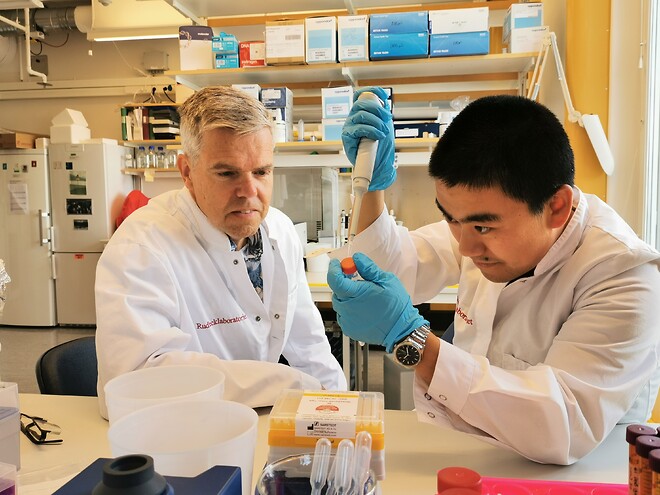 Foto: Elicera
Foto: Getty Images
Professor Magnus Essand och Dr. Di Yu, forskare vid Uppsala universitet och medgrundare till Elicera Therapeutics. Foto: Elicera
Although the method has been described as a revolution in cancer care, today there is only one Swedish company developing CAR-T treatments on a commercial basis.
Elicera Therapeutics has two CAR-T candidates under development. One, ELC301, is targeted at B-cell malignancies and the other – which is rarer – at certain types of solid tumours.
The latter candidate, called ELC-401, is primarily focused on glioblastoma, an aggressive form of brain tumour, but it can also be applied as a treatment for other solid tumours, such as colon cancer, pancreatic cancer and melanoma.
Those developing CAR-T therapies to fight solid tumours all face the same problem: a solid tumour has a highly immunosuppressive microenvironment, unlike blood cancer, which is easier to access.
Elicera's trump card is Itank, a proprietary technology platform. A process is initiated by placing a gene in the CAR-T cells, which fights the immunosuppressive microenvironment and makes it easier for the CAR-T cells to infiltrate the tumours.
"In addition to binding and attacking the tumour cells that carry the target that the CAR-T cells are targeting, we can also activate the patient's own killer T cells against the entire set of targets. So, there will not only be an attack on one target but on all targets that are relevant to tumour cell attack," says Jamal El-Mosleh.
According to him, animal trials have shown that the platform is universally compatible with various CAR-T cell therapies and that it enhances their effect, regardless of which tumour type or target in the tumour the treatment is aimed at.
Currently, there are about a hundred companies in the world that develop CAR-T therapies, but at Elicera, they think they have found a way forward with huge potential in solid tumours through Itank.
"This is a fairly unique technology. We have identified another company working on something similar, a Japanese company. They have managed to generate eight different collaboration licensing agreements with CAR-T cell developers. This highlights that this is a problem that many are facing, and which is difficult to solve, so this should be of great
interest to other CAR-T developers as well."
Elicera is currently planning a clinical trial of ELC-301 in the treatment of B-cell malignancies, and last autumn an agreement was signed with Biontech IMFS, which will be the contract manufacturer of the necessary retroviral vectors. The study is expected to start in 2022.
In addition to its two CAR-T candidates, Elicera is also developing two oncolytic viruses. These viruses have been genetically modified to selectively enter cancer cells and replicate themselves to such an extent inside the cells that the cancer cells burst and die while the healthy cells remain untouched.
Artikeln är en del av vårt tema om News in English.