Swedish breakthrough in Alzheimer's: "We can finally present great data"
Treatments for Alzheimer's disease are currently among the hottest topics in drug development. Two Swedish research companies with high ambitions and successes in the field participated in Bioscience 2022 conference at Life City in Hagastaden, Stockholm.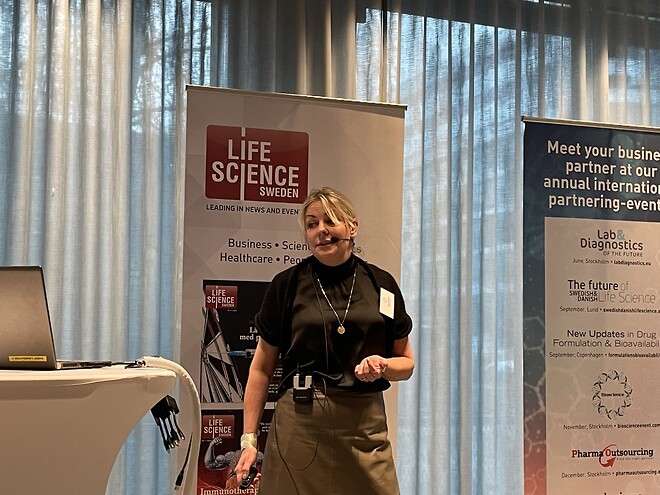 Johanna Fälting, Head of Research at Bioarctic. Photo: Karin Winter
Time and time again, the scientific world has tried and failed to find an effective treatment for Alzheimer's. Therefore, it attracted significant international attention at the end of September when preliminary results from a phase III study indicated that the drug candidate lecanemab significantly slows the deterioration in patients with early Alzheimer's.
Lecanemab has been developed by Bioarctic in collaboration with Japanese Eisai as a result of founder Lars Lannfelt's hypothesis that the so-called protofibrils of beta-amyloid play a crucial role in Alzheimer's and that an antibody therapy could help patients.
"We have been working on this project for 20 years, and we have finally obtained great data," said Bioarctic's Head of Research, Johanna Fälting, at the conference on November 8.
A more detailed presentation of the phase III results has been promised for an Alzheimer's Congress at the end of November.
"This antibody is now undergoing regulatory review. I would love to talk more about it today, but due to market rules, I cannot. Sorry to disappoint you there," she said without looking too sorry.
She went on to talk about the company's other projects in Alzheimer's and Parkinson's disease and ALS instead. On Tuesday, Bioarctic also announced it is launching a project on Gaucher's disease.
Johanna Fälting also presented the company's "Brain Transport Technology" platform that more efficiently enables the transport of antibodies through the blood-brain barrier, which otherwise makes it very difficult for drugs to reach the brain.
"This kind of technology platform allows for increased brain exposure and improved distribution, which allows for lower doses of the treatment to be used as a greater proportion reaches it. This will also result in lower costs and a reduced need for manufacturing capacity, which will be a real challenge in the event that antibody treatments against Alzheimer's prove to be successful, as today's capacity will not be sufficient to meet the market."
Huddinge-based Alzecure is another Swedish company that is investing heavily in developing treatments for Alzheimer's.
"The field of Alzheimer's is currently undergoing a true transformation, which is thanks to Bioarctic, but also other advances made in recent years. I believe that we will see a total transformation of the sector because there is now evidence that you can influence the disease by reducing the accumulation of amyloid in the brain," said Alzecure CEO Martin Jönsson at the event.
The company was formed as a spinoff from Astra Zeneca when the pharmaceutical giant shut down its Alzheimer's and pain operations.
The company's leading candidate against Alzheimer's is ACD856, a treatment aiming to improve cognition and memory function in patients with Alzheimer's. A phase I study has yielded positive results and a phase II study is planned.
"We are not in need of just one, but several treatments. Antibodies are in the pipeline, but we also need to develop preventive treatments, which will prevent the disease from developing," he said.
However, first in Alzecure's pipeline is the substance ACD440, which is being developed against neuropathic pain and is now in phase IIa trials.
Artikeln är en del av vårt tema om News in English.