Astra Zeneca's Sweden CEO: "We have great faith in our portfolio"
It all started with a summer job as an operator at Astra's chemical factory in Snäckviken, just outside Södertälje. More than three decades and countless different assignments later, Per Alfredsson, born and raised in Södertälje, is CEO of Astra Zeneca Sweden, which employs 7800 people in Södertälje, Stockholm and Gothenburg. "It was a very special feeling to be in charge of the entire organisation," he says in an interview about his career and potential future blockbusters.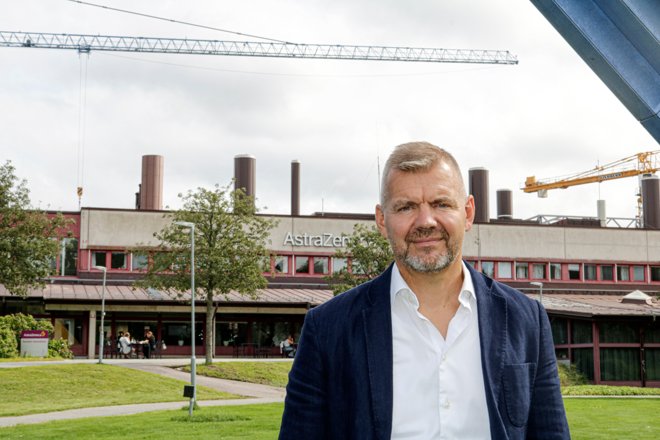 Per Alfredsson, CEO of Astra Zeneca Sweden Photo: Anders Göransson
Life Science Sweden met Per Alfredsson at Astra Zeneca in Södertälje, not in Snäckviken but Gärtuna, which is the company's other major site in the municipality.
Per grew up nearby, went to school and his friends were here. He got some of his first scratches and bruises on the football pitch only a short distance from the factory site.
"My parents live right nearby, and you can see their townhouse from here," he says, pointing towards the opposite side of the railway.
His journey at the company began in earnest in 1996, when he got a job at the former Astra directly after graduating from the Royal Institute of Technology (KTH) with a master's degree in chemical engineering. He had already done his thesis there and was asked whether he wanted to implement it in production – a challenge he couldn't refuse.
"I was a newly graduated engineer with a great deal of self-confidence and a strong belief that I could do practically anything," he says. "Down the road, I learnt that listening to others is also a good idea."
He spent a couple of years as a process engineer in API manufacturing and then a further period as manager of one of the factories at Snäckviken.
Then came the merger with British Zeneca, and new opportunities opened up as the two companies became one. Per Alfredson was one of the first to be offered a position abroad.
He said, "absolutely, I'm off", and off he went with his wife and two children, a four-year-old and a newborn.
After a few years in API manufacturing in Bristol, he moved back to Södertälje to take over one of the factories producing the Turbuhaler, one of the company's asthma inhalers, and also to manage the company's liquid production unit.
"It was a great learning experience. Above all, we explored how we could be more productive and work better together."
The next stop was a bit of a surprise: Puerto Rico in the Caribbean and an assignment as a subsidiary director.
"It was amazing. The culture was totally different from here, but it was extremely rewarding, and the family became very close during those two years."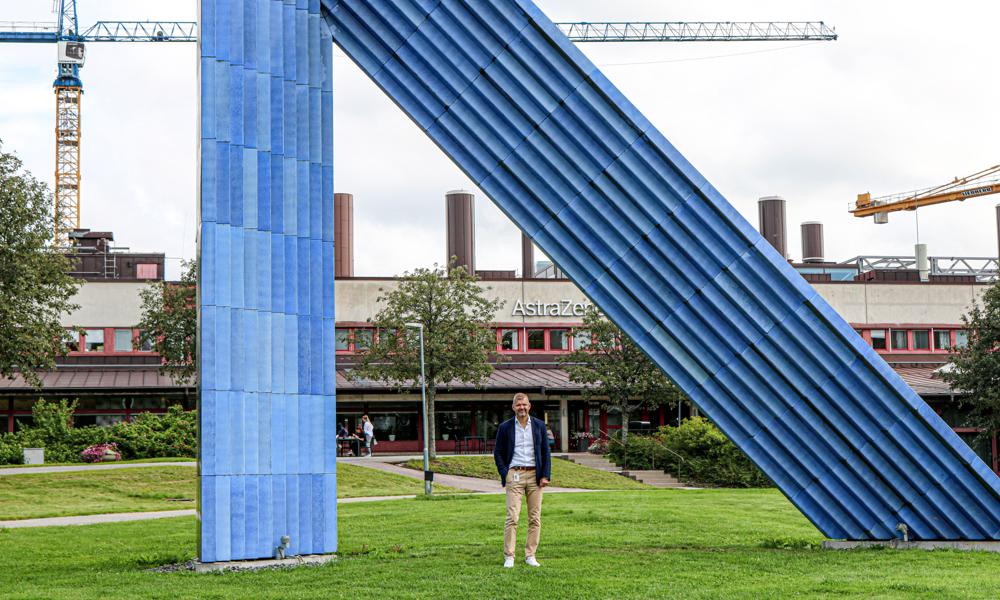 Per Alfredsson
Upon returning home, he was offered the position of CEO of Sweden Operations – that is, the entire manufacturing operation in Södertälje, both Gärtuna and Snäckviken.
"It was pretty cool to be offered the position of CEO and be responsible for everything, considering that I grew up here. Especially at that time when I knew many people all over the organisation. I might be out in the production when someone on the line turns around and says, "Well, Per, what's up?" And it's someone I went to school with."
More international assignments followed, first as head of the company's global supply lines with employees in more than 30 countries and then as head of the company's manufacturing and distribution of pharmaceuticals in Europe, the Middle East and Africa.
In 2019, he came to work with biological drugs for the first time as Senior Vice President of Global Biological Operations, a position he still holds, in parallel with his CEO role in Sweden, which he took up in January this year.
In the meantime, Per Alfredsson was assigned one of his most important tasks to date. During the height of the pandemic, he was responsible for rapidly ramping up production and distribution of the company's COVID-19 vaccine, Vaxzevria, including establishing vaccine manufacturing in over 25 global locations.
The vaccine was not a success in Europe, and in Sweden, for example, its use was phased out after some time.
"But I am still firmly convinced that it was the right thing to do. We had a pandemic going on, and the question was who could help us come out of it. Ultimately, we delivered over three billion doses, saving over six million lives, mostly in low- and middle-income countries. Those countries would otherwise not have received a vaccine until much, much later."
Did you ever make any money from the COVID-19 vaccine?
"No, we didn't. It was pro bono, and for us, it was about doing our bit to help, which feels very good."
And now to a more current issue: According to a recent report, Astra Zeneca has increased its sales to Russia since the start of the war in Ukraine, and now accounts for almost the entire Swedish export to the country. What is your view on this? It might be perceived as making money from the war.
"Firstly, it is important to point out that medicines are exempt from sanctions and the import and export restrictions that have been implemented. We comply with all existing regulations. This is about providing medicines to patients in Russia. I hope most people understand that this is our goal: that patients, who in many cases have cancer, continue to receive their medicine."
"As a company, we have been clear in our condemnation of the full-scale invasion."
Regarding the latest interim report, Astra Zeneca's management announced that the company would start 30 (!) phase III studies this year alone. There is a feverish activity in the company, says Per Alfredsson.
"It's exciting when our research leads to this position, and just imagine if we can take the treatment all the way to the patients, which creates a very good spirit, even though we are busy. I was involved 15 years ago when we didn't have the same strong pipeline, and it wasn't nearly as enjoyable."
How important is the business in Sweden to Astra Zeneca as a whole?
"It is imperative. 40% of the volume is produced here in Sweden, so we are the largest by far. And in Gothenburg, we invest SEK 20 billion in research. Astra Zeneca cannot function without the facilities here in Sweden."
Are there any particular drug candidates in the pipeline that seem particularly exciting?
"You're asking me to name my favourite child, which is not easy. However, one interesting field is advanced therapies, cell and gene therapies. These are potentially curative cancer treatments, and that's very exciting."
"Our entire oncology portfolio is fascinating, not least regarding antibody conjugates. We collaborate on a product that is doing fantastically well, and we have a whole portfolio behind it. It is very interesting."
Will there be a new "blockbuster"? Is that even possible today?
"The answer is yes. If you compare it with the old Astra Zeneca, we had a few products that were big. We now have a whole portfolio of extremely important products, and our company is much bigger today. So, there will be new blockbusters all the time. We have great faith in our portfolio."
In early August, the government announced the appointment of a new research committee, and one of its members is Per Alfredsson, who will now serve as an advisor to the government.
How can you contribute and what issues will you raise?
"I will bring my collective knowledge and experience from Astra Zeneca in Sweden, which I will try to feed into the group. For example, there are key issues regarding the supply of expertise and how we ensure that we obtain it from our universities. It is also vital that we get access to experts from abroad. Then there is the issue of collaboration between academia and the business community, and ensuring that we create the right conditions for basic research. Those are a few examples."
Per Alfredsson
Age: 53 years old
Family: Married (his wife also works at Astra Zeneca) and he has two daughters.
Residence: A house in Mariefred.
Job: CEO of Astra Zeneca in Sweden and Senior Vice President of Global Biological Operations.
In my spare time: "I enjoy exercising – running, going to the gym, and skiing. Spending time with my daughters. They have left home, but sometimes they want me to help them with things, which makes me very happy. And I like to cook, listen to music and work in the kitchen."
An unexpected talent: "I don't think I have any, but I'm pretty good at endurance sports, as I'm very stubborn and a natural winner."
Last book read: Finland's Unknown War by Aapo Roselius and Oula Silvennoinen ("I am very interested in history.").
Artikeln är en del av vårt tema om News in English.